A Community Promise Started in 1904 AND STILL STRONG AND GROWING
We are part of the story in our customers' lives and the communities in which we serve.
Since our humble beginnings in 1904, we do what is right for those we serve, both customers and our communities. We believe that serving a thriving community is the best thing for our residents and businesses. That's why NB focuses on giving back and lending a hand whenever we can. Whether it's volunteering, supporting local events, or helping our neighbors, NB Bank has built a reputation as a strong community partner.

Rooted in northwestern Wisconsin, we're here to serve you. We help build and drive our local economies and communities forward. We understand the diverse stories and backgrounds throughout our branch communities, because we live them, every day, alongside you. We're driven by hard work, knowledge, tradition and values.

Multiple service organizations, special-interest clubs and non-profit organizations are supported by Northwestern Bank. It's not uncommon to see our logo not on the event posters but at the events with our staff leading the committee or assisting where needed.

On Fridays, NB team employees are given the opportunity to participate in Casual for a Cause. By making a minimum financial donation, our team is eligible to wear jeans for the day.

Independently, NB team employees volunteer with organizations like the area service, community and personal interest affiliations. Many of our team members serve on local boards and committees, supporting the Mission and giving back through Northwestern Bank and on their own personal time.

1400 +
Hours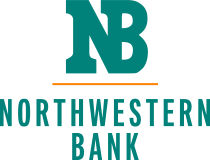 450 +
community