How to choose a bank for your business.
Posted:
Questions for conducting bank interviews beyond the rates
You've created your business plan and are trying to figure out how to choose the right bank for your business. The majority of banks offer similar products, rates and banking services. So, what questions should you be asking when you conduct interviews of local banks and bankers for your business?
Lacey Logslett, VP Business Banker at Northwestern Bank shares her thoughts on choosing the right bank. First are the questions about their standard banking services, like the types of accounts, fees, interest rates, cash management solutions and bank locations. Then there are the tougher questions that help you decide if this is the right bank to align your brand with long-term.
5 questions to consider:
What are the bank's company values and how do bank employees incorporate them into their daily work? Know your values and ask the bank what their corporate values are. It's important to see if they align with your business brand and personal values.
How are decisions made on various loans? Every bank has a different process for making decisions on loans and lines of credit. Ask about the forms and timeline, types of collateral and factors used to secure a loan, and where and who make the decisions. It's critical to understand how important decisions that affect your business are being made.
How will the bank's team communicate with my business and I? Know your communication style and ask the bank how they will communicate with you. Ask who on the lending or treasury management team you will have direct access to when questions arise. If you prefer meeting, talking or texting a real person be sure to ask if you will have those options.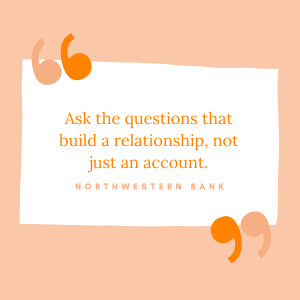 What positive impact does the bank have on our community? If your community is important to you, ask what your bank does to enhance the community as well. Do they shop local and support the businesses they work with? Do they sponsor local events? Are they stepping up to volunteer and make the community a better place when they can?
What type of relationship can I expect my business and I to have with the bank's team? Consider what roles you want your business banker and treasury management team to have in your business, for example, do you want them to be transactional or do you want a relationship where they are a sounding board and cheerleader for your business. Ask them to give examples of how they have interacted with other businesses in your industry.
Choosing the right bank for your business can be challenging but through the interview process you can find, not only a bank, but a team of people vested in helping you succeed.
Have a question we can help with? Meet our business banking team here and reach out with your questions.
Ready to finance your business? Click here to start the process with a Northwestern Bank lender.
Check out more articles for your business here: View our blog
Business bank accounts Your side hustle needs a bank account too!
Business 101: How to kick off a viable business idea
Looking to learn from other local entrepreneurs? Check out the podcast Banker with a Beer where local entrepreneurs, non-profits, and city officials share their insights on financial matters through a frosted lens. Listen on Apple, Spotify or northwesternbank.com/bankerwithabeer/
Banking Podcast | Banker With A Beer | Northwestern Bank