Online Scams: Three red flags
Posted:
Online Scams: Three red flags to look for.
Online scams are ever-present on the internet. It is important to be aware of the variety of tactics used by scammers to trick consumers into giving away their private information. Below are a few common red flags to be mindful of so that you don't fall for an online financial scam.
1) They contact you unsolicited.
Scammers may contact you unexpectedly via text, email, or social media communication. They may even disguise the phone number or email address to appear as credible senders from a person you know or a bank. The message may ask you to click a link to verify an account and then ask for personal information. If someone, including someone you may know, reaches out to you asking for money, passwords, or personal information, it could be a scam. It's important to know that Northwestern Bank will never contact you to ask for personal information. When in doubt, call the bank using the number on the back of your debit card or account card to verify the bank contacted you.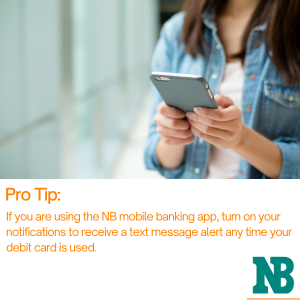 2) They pressure you to act immediately.
Within the scammers message they may mention a problem or a prize. They then trick the consumer into believing that to fix the problem or claim the prize they need personal verification information or financial information. Never provide financial information to claim a prize.
3) They tell you to pay a certain way.
The scammers may demand payment to fix the problem through store gift cards, prepaid cards, an App like Venmo or PayPal, money transfer, or request cash to be mailed. Be wary of any person or company demanding payment through these methods.
What to do if you fall victim to a financial scam.
These online scammers are professionals; do not be embarrassed if you are scammed. Take immediate action to contact your bank. Explain the situation so they can help you freeze the impacted accounts. Next call the police to report the incident. Additionally, report your case to the Federal Trade Commission (FTC) at ReportFraud.ftc.gov. On the FTC site you will be prompted to share what happened and the FTC will give you further steps to protect yourself.
Learn more about fraud here.
Learn more about personal finance on our blog here.

Do you have the NB Mobile Banking App? Learn more about how to use your "My Cards" settings to help you monitor your account for fraud here.