Fall Financial Refresh
Posted:
Fall Financial Refresh
Summer is winding down and many people are gearing up for apple season, pumpkin everything and changing leaves! Before you run out to enjoy the cool fall weather, now is a good time to evaluate your annual financial goals. A lot can happen throughout the year. Don't wait until December to see if you've reached your goals - check in on your progress (or lack thereof) now.

Revisit your financial goals
If you created savings or spending goals at the beginning of the year, now is a great time to evaluate how far you've come and see if there is anything you can improve. If you haven't created any financial goals, now is a great time to start. Whether your goals are saving for a significant purchase or retirement, paying down debt, or deciding to create and stick to your budget they will aid you in becoming more financially secure.

Refresh your budget
A budget is one of the building blocks to healthy finances and should be reviewed regularly. This is a good time to evaluate if your budget is working for you. Check to make sure you have all your income and expenses listed. If your expenses are more than your income, now is a good time to see if there are any expenses you can reduce or eliminate. Additionally, if you have more income than expenses be sure to consider if those funds should be allocated into a savings account, Certificate of Deposit (CD), towards a debt, or retirement account. Don't have a budget? Learn how to make one here.

Check on your Emergency Fund
An emergency fund is a savings fund that is suggested to contain enough funds to cover three to six months' worth of expenses. The funds are saved to be used in case of an emergency – such as loss of a job, unforeseen medical expense, furnace unexpectedly quits, etc. Winter can bring unforeseen emergencies with its cold temperatures, ice and snow. Having an emergency fund can bring you peace of mind during winter weather events.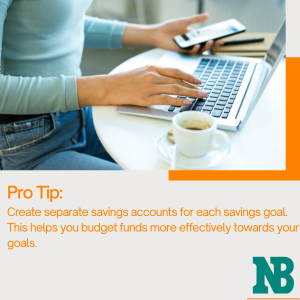 Make the most of your bank app
Your bank app gives you control of your account 24/7. Below are a few common features of banking apps. Check your Northwestern Bank App to set up these features to help you reach your financial goals.
Instant balance – enables you to check your account balance at a glance.
Notifications – set up debit card notifications so you receive a text alert every time your card is used. This helps you notice fraud on your account more quickly.
Bill pay – set up bills to automatically be paid from your account. This helps you never miss a payment.
Automatic withdrawals to accounts – Are you saving for something big? Create automatic withdrawals to your savings on scheduled dates.
Nickname your accounts – Do you have multiple checking and savings accounts? Name them based on how you use them. For example: Home downpayment savings, childcare savings, emergency fund savings, vacation fund, etc.
Request a Credit Report
Now is a good time to make sure there are no unusual accounts in your name. You can request one free credit report every year from each of the three major credit reporting bureaus. These reports give you a view of your credit accounts and credit score. Visit www.AnnualCreditReport.com to obtain your report.
No matter where you are on your financial journey its always good to check in on your progress! Whether you just started your first budget and set your financial goals, attained a financial bench mark, or met one of your goals, its important to recognize your achievements. So, celebrate how far you've come! Give yourself a pat on the back and enjoy your fall apple orchard visits and pumpkin picking adventures feeling confident they fit into your budget.

Learn more about personal finance on the NB Blog